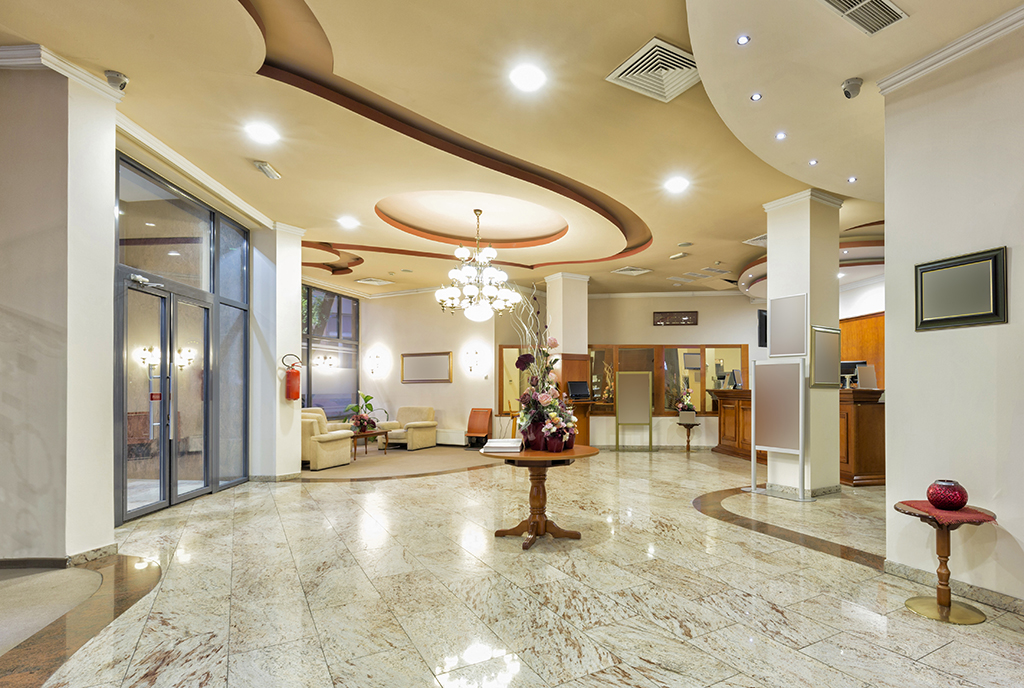 Award Winning 4 and 5 Star Hotels Across the World are Suffering from these Natural Disasters…
There is a feeling that comes when you walk into a fine hotel or resort.  It's that sense of luxury that starts with high quality building materials and design elements when you walk onto the property, through the lobby and then into your room. 
The finest hotels around the globe invest in the most luxurious stone. The architects, design teams, and decision makers all fall in love with the look and beauty of cut-from-the-earth natural stone surfaces.   There is no doubt they elicit a feel of opulence that just doesn't come from man-made materials. 
Although these materials can outlast the hotels themselves, housekeeping and facility maintenance teams often don't know how to properly clean and care for them.  Between guests spills and the maintenance team using the wrong cleaning products, these once beautiful polished marble, limestone, travertine and granite floors and countertops are under attack. 
These once shining, clean surfaces begin to dull, look dingy and lose their esthetic effect – especially in high traffic areas.  If you're not sure this is the case, compare the stone near baseboards, under rugs or on vertical surfaces with the same type of stone. Sand from the beach or trail, a fumbled glass of wine, or soda, hand soap or a strong cup of coffee over filled, all part of resort living, can ruin the look of natural stone surfaces.  Other offenders can be improper cleaning solutions and maintenance procedures or a mop that wasn't washed out completely after cleaning up an acidic margarita or shrimp cocktail sauce spill.
Protecting these surfaces is easier than most Facility Maintenance Teams and Housekeeping staff realize.  Bringing them back to what they looked like when first installed can also be done with a few simple products.
So let's clean it up!
Marble Travertine and Limestone Floors – Stone-Safe Tile and Grout Cleaner.  Deep Clean will effectively clean both the tile and the grout WITHOUT hurting the stone.  Standard acidic cleaners can do significant damage to marble, travertine, limestone and resin-treated granite (most granite).
Granite Countertops – Deep Clean and Polish it Up.  The Granite Countertop Polishing Kit has everything needed to remove had water deposits and deep clean as well as protect and revitalize the surface bringing back the shine.  
Marble Countertops – Get out the Ring Mark, Clean and Polish.   Ring marks from acidic drinks (etching) is one of the most common issues with marble.  Natural Touch Etch Remover will minimize and often times remove the appearance of these rings.  Stone & Glass Scrub and Crystal Clean  (included in the Granite Countertop Polishing Kit) will get the hard water deposits off and safely clean the surface.
Now let's protect it. (for easier cleaning moving forward)
Marble Travertine and Limestone  – Certain stone is porous and will need it's own sealer to be properly protected.  Not all sealers are designed to effectively protect porous stone like marble travertine and marble.  Porous Pro NanoSealer is formulated for this specific type of Natural Stone.
Granite Countertops – Preventing oil and food stains is the most important thing for ongoing care of granite.  Ultimate Pro Premium NanoSealer repels water AND oil-based stains.  By maintaining with Crystal Clean Daily Cleaner and Finishing Touch Spray Polish the seal will last for several years. 
These few products can make a huge difference in the appearance and life of natural stone in the high traffic environments of hotels and resorts.  For tougher issues, call our tech support team.  We will connect with a technical trainer who can walk you through any job.
The STONE PRO team has even sent Technical support to 4 and 5 star Hotels all over the world towns to teach these simple methods to the Facilities Maintenance Staff. Whether utilizing the online training videos to teach the staff simple one or two step maintenance techniques or having support staff come and show a three or four step system for restoration, we have your solution for the stone floor, counter, or shower in your hotel. Look at some of the results seen.
If you feel you could benefit from any of these above mentioned remedies on your damaged stone, please visit StoneProOnline.com or call (866) 786-6310 for more details on how STONE PRO products can preserve your natural stone investments.